DETROIT, Mich., Jan. 5, 2016 /PRNewswire/ — The National Association of Minority Automobile Dealers (NAMAD) and IHS Automotive, part of IHS Inc. (NYSE: IHS) and a leading source of critical information and insight to the global automotive industry, today announced the nominees for the first 2016 Diversity Volume Leadership Awards (DVL Awards).
The Diversity Volume Leadership Awards will precede the North American International Auto Show on Sunday, January 10, 2016. The invitation-only awards program, reception and dinner will take place from 5:00 p.m. – 8:00 p.m. in Room 410-A at Cobo Center in Detroit.
One of the premier industry events, the DVL Awards will annually celebrate segment leaders. It is the only event of its kind focused on multicultural automotive buyers.
Of the top industry honors presented to automotive manufacturers, nominees for the DVL Awards have demonstrated the highest new vehicle registrations with ethnic, women and millennial consumers. New vehicle registration data from IHS Automotive has been used to determine the nominees based on 2015 model year actual U.S. personal new vehicle registration volumes (October 2014 through September 2015). This year's awards are based on an analysis of more than 13 million personal new vehicle registrations.
Nominees for the 2016 Diversity Volume Leadership Awards are as follows: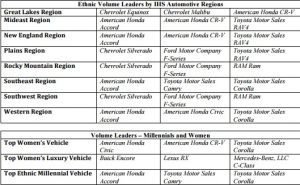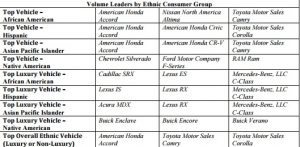 The Diversity Volume Leadership Awards would not be possible without the generous sponsorship from the following organizations:

Connect with DVL Awards:
Hashtag: #DVLawards and #DVLawards2016
Website: www.namad.org and www.ihs.com/automotive
Twitter: twitter.com/NAMAD_USA
Facebook: facebook.com/NAMAD_USA-468806139894019
Eventbrite: eventbrite.com/e/automotive-diversity-volume-leadership-awards-tickets 19899329430
About The National Association of Minority Automobile Dealers
The National Association of Minority Automobile Dealers' (NAMAD) objective is to pursue the meaningful presence and participation of minority businesses and diverse employees across all aspects of the automotive economic sector, including:
Increasing the number of minority-owned dealerships in communities across America.
Advocating workplace and supplier diversity in the automotive manufacturing environment.
Supporting minority engagement in the automotive retail sales and service sectors. We are committed to developing strategic relationships and advocating for the advancement of business policies and practices that ensure diversity and economic parity remain a priority in all aspects of the American automotive industry.NAMAD is a 501(c)(3) non-profit, tax-exempt organization headquartered in the Washington, D.C. area. For information on National Association of Minority Automobile Dealers visit: www.namad.org
About IHS Automotive (www.ihs.com/automotive)
IHS Automotive, part of IHS Inc. (NYSE: IHS), offers clients the most comprehensive content and deepest expertise and insight on the automotive industry available anywhere in the world today. With the 2013 addition of Polk, IHS Automotive now provides expertise and predictive insight across the entire automotive value chain from product inception—across design and production—to the sales and marketing efforts used to maximize potential in the marketplace. No other source provides a more complete picture of the global automotive industry. IHS is the leading source of information, insight and analytics in critical areas that shape today's business landscape. IHS has been in business since 1959 and became a publicly traded company on the New York Stock Exchange in 2005. Headquartered in Englewood, Colorado, USA, IHS is committed to sustainable, profitable growth and employs approximately 8,600 people in 32 countries around the world. IHS is a registered trademark of IHS Inc. All other company and product names may be trademarks of their respective owners. © 2015 IHS Inc. All rights reserved