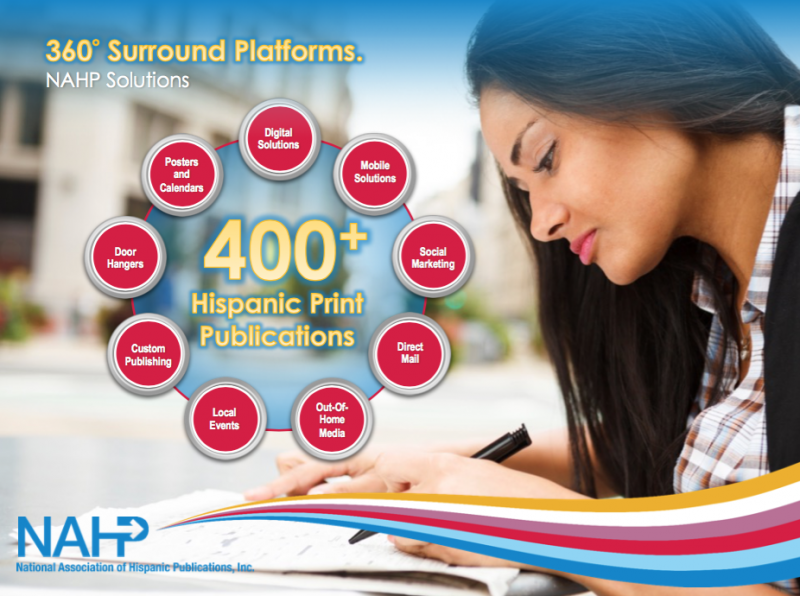 Our Mission at NAHP Media Services, LLC
To create targeted and compelling media strategies that include key insights, fresh and provocative ideas to give our clients a competitive advantage essential for success
To prove ourselves every day through exceptional execution
To make YOU (our client) the expert in Hispanic media
Our Objectives
WE PROMISE to buy you the best media rates across all platforms both online and offline and most importantly we will
ONLY SELECT the media's that are relevant and effectively reach your customers
CONNECT you with powerful Latinos in a non-threatening atmosphere
DELIVER a professional event that runs smoothly and on time
ADD VALUE to your buy
Media Buying Means …
Creative Quick Turnaround
We can turn your campaign on fast and pinpoint creative ways to make your budget generate more results.
Negotiation
We have deep expertise in the nuances of researching, negotiating and implementing advertising placement
Hyper Local Events Reaching Powerful Latinas
Local Event Executions
NAHP can assist you in sponsorship coordination for high-impact localized events by our member publications across the U.S.
Sample Events
Symposiums
Luncheons
Speaker Series
Town Halls
Career Days
Networking Receptions
One Order, One Call, One Invoice
Time is money. Don't waste yours on space requests, tracking, tear-sheets and billing
NAHP Media offers a true turn-key insertion to the nations top media and markets
Put the power of the most knowledgeable Hispanic media rep in the business to work for YOU!
Testimonials and the value of NAHP
Helping Corporations Connect in the Latino Market

"As Macy's strives to effectively reach its increasingly diverse customer base, we are proud to align with the NAHP to help achieve this objective. Through effective leadership and communication, the NAHP has made groundbreaking strides in building an organization that understands the importance of a win- win partnership. The Macy's and NAHP partnership continues to be multi-dimensional, inclusive of event sponsorships and national media buys with NAHP member publications. We look forward to building upon the success our partnership."
Bill Hawthorne SVP, Diversity Strategies and Legal Affairs

"Herbalife understands the importance of community newspapers in the Latino community and as a result moved to have a closer relationship with the papers through the NAHP. Given its presence in the Latino community, Herbalife felt it was important to build a relationship not only with the readership, but the newspaper owners who usually are very involved in local affairs."
Angela Maria Arboleda VP, Government and Community Affairs
Our Team
Our team of professionals has well over 100 years of combined media experience — from buying and planning, to ownership, reporting, editing, creative services and marketing
We have all of your needs and objectives covered
Merging your goals with our ideas, NAHP Media, will create customized programs to maximize results and increase customer engagement
Success Should Be A Win-Win
Let Us Be Your Stairway To Winning In The Latino Community
Robert D. Bush
NAHP Media Services, LLC.
323.633.7310