For Members ONLY: IHS/POLK Automotive Research will be attending the Advertising Committee call on Thursday 9/22.
They will walk us through the Hispanic Automotive Report NAHP Commissioned on behalf of our members.
Members should call in and get training from them on how to use the report.
For more information contact Anita Grace at support@nahp.org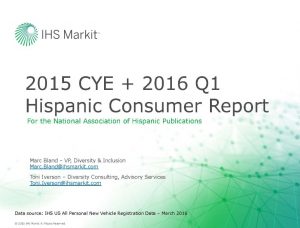 Remember that this report has been purchased by the NAHP for Member use only and to obtain a copy of this study, you MUST be a paid member of the NAHP and contact us directly at officemanager@nahp.org to request.
More detailed information is available for a discounted rate should you wish to purchase for your specific markets. For these requests, please contact: support@nahp.org